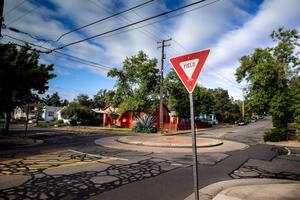 Getting pulled over always is always a bummer. Maybe you were having a perfect day up until that point and seeing those red and blue lights flashing in your rearview threw you off course. Or maybe you were having one of those days where everything was going wrong and the ticket was a cherry on an otherwise crummy sundae. Either way, you want to put the citation behind you as quickly as possible.
When you're cited with a failure to yield in the state of Wisconsin, though, you have to take action before you can move past your ticket. The Wisconsin Department of Transportation (DOT) requires you to complete a specific type of traffic school called a Right-of-Way course.
Don't worry. You won't have to go sit in some stuffy classroom or take time off work or school to complete the requirement. But before we get into the details, let's take a look at the specific type of traffic school you need after a failure to yield in Wisconsin.
What traffic school do I need to complete after a failure to yield?
As of December 2, 2017, if you get cited with a failure to yield in the state of Wisconsin, you have six months to complete a DOT-approved Right-of-Way course. The goal for this course is to make sure you're up to speed on the rules of the road and have the right level of awareness to keep yourself and others safe when you're behind the wheel.
The clock starts ticking the day you get your ticket, so don't delay. If you don't finish your course in time, your driving privileges can be suspended for as long as five years.
This all assumes that your failure to yield didn't result in any great bodily harm. If it did, your license will get suspended for at least three months. And if you caused a death, your license gets suspended for nine months.
If your license gets suspended, either because you didn't take your traffic school course in time or because you caused bodily harm, you'll need to take the Right-of-Way course to get your license reinstated.
How do I complete Right-of-Way traffic school?
To either prevent your license suspension or reinstate your license, you'll need to take your Right-of-Way course from a DOT-approved education provider. You can take that course in a classroom at a set time, but most people find it's easier to knock it out online. Just choose a DOT-approved online traffic school provider and set aside a couple of hours to sit at your computer. This way, you can complete the required course at your convenience.
After you finish the course, your traffic school provider should report your course completion to the DMV. If your license is currently suspended, you can use this webpage from the DOT to check and see if you're eligible for reinstatement. It should also tell you if you can reinstate your license online or if you'll need to go to the DMV to complete the process.
Getting a failure to yield ticket is a hassle, but completing the required traffic school can be a breeze. Choose to take your hours online and you can knock them out at any time that's convenient for you.